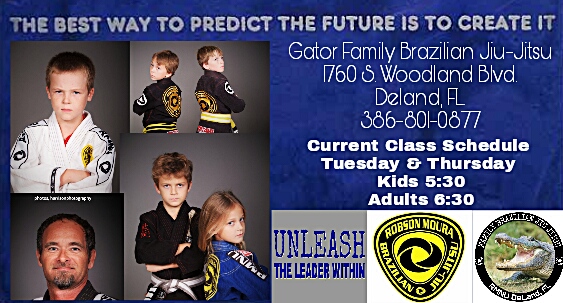 FAQ'S ABOUT TRAINING AT GATOR FAMILY BRAZILIAN JIU-JITSU
Where is your Academy? We are located at Victoria Square shopping center a few doors from Gators Dockside and the movie theater. 1760 S. Woodland Blvd. Deland, Fl.
What's the best way to contact you? You can reach Coach Wallace directly by calling or texting 386-801-0877.
Do I have to be in shape to start training? No. Jiu-Jitsu is a great way lose weight, tone up, and increase cardio.
Do you offer trials? Yes, we welcome you to try a two week trial for $19.99
 What should I wear to try a free class?Comfortable shorts or sweatpants and a t-shirt.
 What age can my kids start Jiu-Jitsu? Our kids program for boys and girls starts at 6 years old.
Do you have any women in the Adult class?Absolutely, 1/3 of our adult class are ladies.
What days can I train? Our current schedule is Tuesday and Thursday. Kids at 5:30, Adults at 6:30. We also have open mats and field trips to train with Master Robson Moura.
Do I have to compete? No. We have an amazing competition team but there is no requirement to compete. Most students just train for fun, FITNESS, and self defense.
   Does your Academy have an affiliation? Gator Family BJJ is a proud member of the Robson Moura Jiu-Jitsu Association.
   How much are classes? Our rates are less than $20. per class.
   Do I have to sign an agreement? Our Coaches and staff are 100% committed to the success of your goals. As such we require 100% dedication on your part. We have yearly memberships programs.
For more info please contact Coach Wallace 386-801-0877 and be sure visit our website