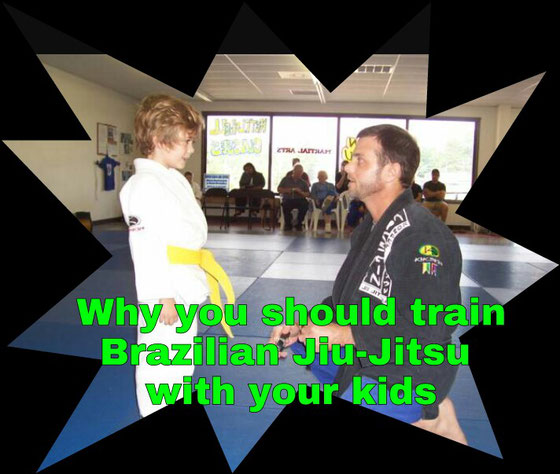 Here's the lowdown on why you should train Brazilian Jiu-Jitsu with your kids.

1. You and your child can enjoy a fun time away from the television. It's  true; there is something that your family can participate in, other that TV time: martial arts classes. Your child will benefit from having a training partner at home that they can workout with, and you will gain the benefit of being able to pry your child away from the TV or their toys to practice Brazilian Jiu-Jitsu.


Martial arts practice at home, between a parent and their child, can easily become a new "family game night" in your household. And the best part of it? It won't only encourage your child to exercise, but it will encourage you to exercise, breaking the spell that TV has on your family (for at least a couple of hours a week.)

2. Your child can actually help you get in better physical shape! What is the best piece of exercise equipment you can have in your home? Is it a bench press? A punching bag? A tread mill? No, it is an energetic 6 year-old child with a desire to practice martial arts. It is no secret that if a child has a sincere interest in Brazilian Jiu-Jitsu, they will want to practice at home. And if they have a belt promotion test or a competition coming up, they will most likely want to practice more.

3. Your child actually has a higher chance of success in Brazilian Jiu-Jitsu if you participate with them. There are lots of benefits that your child can gain from learning Brazilian Jiu-Jitsu right next to you. You will be better able to motivate your child to practice outside of class, your child will be able to use you as a reference for techniques they may have forgotten, and your child will actually be less likely to drop out of class if you are participating as well.

4. You can actually learn something (and have fun doing it, too)!  Most of the time, if you join a family based class, you will be doing the same drills as the children. The curriculum is broken down to a point that a child can learn, making it easier for you to learn a technique without needing to ask ton of questions, or worrying about looking like a fool. 

5. You can improve your flexibility and joint health. As I mentioned in my last article, most martial arts schools teach a set of stretches and warm-ups before every class. If these stretches can help improve the flexibility and joint health of your child, then it will be able to do the same for you. In our adult age, our flexibility greatly decreases even further over time (as most of us can attest to from personal experience).

It's probably too late for me to become more flexible. I have bad joints, so martial arts would hurt too much.

It is never too late for you to better yourself, in any way!

As far as flexibility goes, it may take a bit more time for you than your child to be able to do the splits, or kick over your head, but it is still possible with lots of work and practice. And as for joint problems, most martial art workouts are adaptable for individuals with a large range of health issues.

6. You can gain a great sense of achievement in your life. It is never too late to add something to the list of awesome things you've done in your life! Why not add "getting a black belt" to that list? Why not add "competing to competitions, and even winning a few trophies" to that list? Why not do more?

But, I have already had a lot of personal achievements in my life...

Why settle for good enough? Why not add "inspiring my children" to that list?

When you join a martial arts class with your child, you are not only acting as an inspiration to your own children, but you are also inspiring the other children in the class. You are setting a good example for your kids
The Gator Family Brazilian Ji-Jitsu Team in Deland Fl. Invites you to try a class for free. Give us a call at 386-801-0877